Nine Till Noon. New Zealand National Radio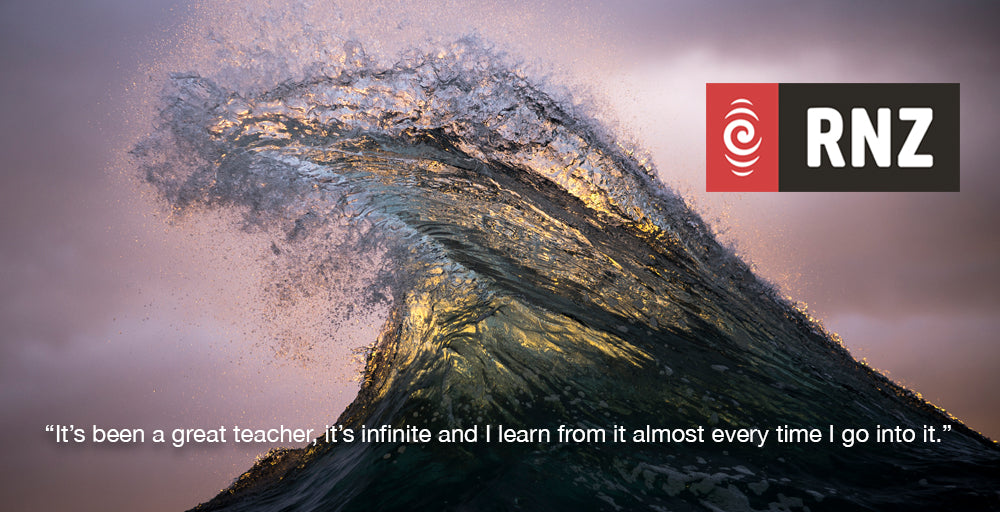 Kathryn Ryan is a warm and gracious woman who hosts the incredibly popular Nine Till Noon radio program. We spoke about letting go of control, exploring the edges of your comfort zone, finding one's self and, the many variables that need to come together for the perfect shot. 
Kathryn received International Radio Personality of the Year for her ability to relate to her audience on a very personal basis and it was like conversing with an old friend. 
The below text was taken from RNZ webpage. 
Ray Collins: From coal miner to ocean photographer.
Australian photographer Ray Collins is known around the world for his stunning images of waves as they complete their journeys to shore, capturing the power and essence of the ocean. He grew up in Wollongong in New South Wales and first worked for years as an underground coal miner. A bad workplace accident left him unable to walk for several months which is when he first picked up a camera and swam out into the surf near his house, initially photographing a friend who was a surfer. That image became a magazine front cover and from there he has launched a new career. Although his first images were of surfers, he is known for capturing the energy of waves just as they unfurl.
"The two main ingredients in every shot that I take is water and light and the complexities and the intricacies that happen when those two things collide," he told Nine to Noon.
He captures his images on a Nikon camera which shoots 8 frames a second.
"I'm going for a bigger resolution, rather than a quicker burst of images, " he says.
His work takes him all over the world, one unforgettable moment for Collins happened in Iceland.
"Sitting on a flotation device a kilometre off the coast of Iceland and it's minus 20 degrees and it's snowing in the ocean and everything's white behind you."
The ocean gave him solace as a child growing up and continues to inspire him, he says.
"It's been a great teacher, it's infinite and I learn from it almost every time I go into it."
Here is a link to the episode (25 min 20 sec)
https://www.rnz.co.nz/national/programmes/ninetonoon/audio/2018743772/ray-collins-from-coal-miner-to-ocean-photographer