Solo Exhibition. 'The Elemental Force of the Ocean', Cologne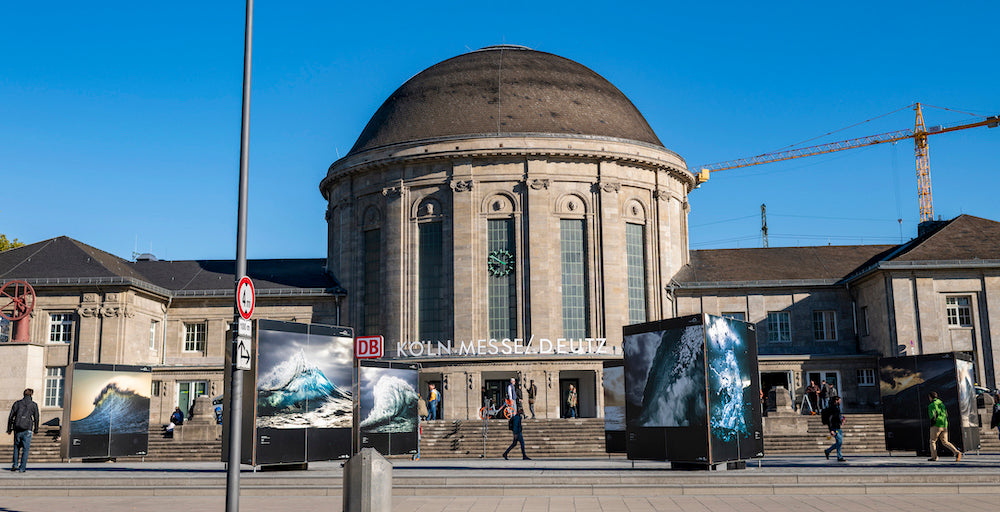 You know those 'pinch me' moments that life sometimes hands out? They're often rare and as such, they stand out.
This was certainly one of them.  
I was invited by the great team of people who organise the Environmental Photo Festival in Zingst, Germany, to have an outdoor solo exhibition to coincide with Photokina 2018.
Photokina is the largest photo and image trade fair in the world and every 2 years the leading manufacturers of cameras, lenses and all manner of photo-related technology reveal their latest state of the art imaging products. It's a photographic tradition that's been happening since the 1950s.
At the entrance to Photokina is Cologne's main train station, it's a large, beautiful building that dates back to 1913. At the train station approach, stairs spill out onto a beautiful public square and for the duration of Photokina, that's where 'The Elemental Force of the Ocean' exhibition was held.
It was surreal to see my imagery in such a contrasting and unfamiliar setting.
Part of my work while there was to lead groups of people through the exhibition and help explain how the images were made. Along with some grea Q & A's, I shared how I plan for certain shots, what kind of process that goes into making these images and how my equipment works.
A highlight for me was observing how the public interacted with it because I often forget just how alien the ocean is to a lot of people, especially big waves!
The installation was printed and produced by the team at Epson Europe.